6 Life Stories from the Kindest Hollywood Actor Ever
Keanu Reeves is famous for his softie nature despite his combat roles. One of the articles published by WonderZine magazine has appealed to our hearts, so we decided to share the amazing facts from this always-looking-sad Hollywood's Neo.
Sure we can judge only by those stories published on the web, but I hope that they did not appear out of anywhere. We are goin' to tell ya everything we have learned about Reeves, who is unjustly considered as the most depressed person in American cinematography.
Keanu and the film set
The most famous shooting story happened during "The Matrix" epoch. After the success of the first movie, the actor has decided to abandon part of his potential earnings, which, according to the estimates, resulted into approximately $80 million. He did it in favor of the troop working on the special effects and costumes. Reeves believed those guys deserved just the same praise as all of the actors. Everyone who worked on the sequels received a motorcycle from Keanu. He is known for his passion for bikes, so the Harleys given to the stunt team came from the heart.
One of the workers engaged in the construction of scenery got especially lucky: knowing he was in trouble, Reeves has established a special prize at Christmas. That person has received an unexpected gift in the shape of $20 thousand. The rest of the time spent on the set, the actor purchased meals for all, and always tried to memorize each name. For him, money is not important at all.
He believes he already has more than enough "for the next couple of centuries." It's not that Keanu is a vampire or something - he was just speaking literally.
The main event was documented by paparazzi immediately.
The story is that simple: in 1997, Keanu spent the morning with the homeless in Hollywood. The actor saw a homeless man while walking down the street, so, all of a sudden, he decided to sit down and talk about life a bit. He offered a breakfast and having drink together. The case was scattered followed by the signatures like "Keanu treats the homeless guy as equal." That occasion is really exceptional even among the top kind Hollywood celebrities as most of them still fear interacting with homeless or ill people. Well, perhaps some of you may think that Reeves had to buy the apartment but think about it first: few of us ever really helped or even just talked to homeless people without any neglect. And we are not celebs, after all.
Keanu and other celebrities
When it comes to work, usually two stories emerge about how Keanu has refused part of his royalties to invite more highly-paid and cool actors to work on the movie. Despite we are not talking about his most outstanding films, this behavior points to the responsible and conscientious attitude towards the working process. In "The Replacements", Reeves agreed to accept a significant reduction of own payment (90%!) to involve Oscar-winning Gene Hackman. A similar story took place when planning a "Devil's Advocate" budget. Reeves was ready to give up part of his earnings (something around several millions of dollars) just to have Al Pacino there in the film. No doubt, it was a winning decision.
Now that's the most known and dramatic one. Reeves is a real walking disaster in terms of his personal life. When a meme appeared starring Keanu as "the sad guy", his fans reminded his life is not a bed of roses. It's not all about difficult childhood or something. For instance, his best friend River Phoenix died of an overdose. Keanu's girlfriend died in a horrible car accident shortly after the couple lost their baby. I am not talking about Sandra Bullock: Keanu has almost never dated female stars – he prefers regular women. It seems that the actor was able to cope with this hell only thanks to his altruistic nature: the more he loses, the more he gives away. When his sister was diagnosed with leukemia, he moved to live next to her.
Keanu had to invest more than $5 million into the disease research hoping to find a cure. Reeves donated money to the hospital where she was treated to facilitate the study of the terrible illness.
At the time of exacerbations, he postponed the shooting and devoted all his time to his beloved sister. In addition, Reeves also launched own Foundation to fight cancer.
Just like any famous person, Reeves has regularly faced the bands of unhealthy admirers. For example, his house was attacked by some teen stalkers several times. During one of these "visits", he solved the problem without resorting to drastic measures: calmed down a desperate fan. Only after talking to her, he called the police to report the incident. Of course, he let the girl go. Another woman Keanu has never met said he pulled off the feat in the spirit of "American Horror Story". She shared Mr. Reeves dressed as her husband to make four children with her. Scandal, obviously, did not follow. Instead of pointless bickering, Reeves has chosen the simplest way out by passing a genetic test to check paternity. As expected, he had no relation to that women and her "imaginary kids." All the judicial proceedings initiated by the woman instantly came to nothing, as well as her intention to require three million dollar alimony.
Keanu and ode to happiness
Despite all these misfortunes, Keanu loves yoga and is trying to keep a positive life outlook. Together with an artist Alexandra Grant, he has released a so-called "Ode to Happiness" in 2011. "Ode" is an "image book for adults," consisting of Keanu's poems. The actor initially wrote it as a joke for friends, inspired by his friend Jamie who loves only sad music. Each page is devoted to the particular line which has a simple illustration made with ink.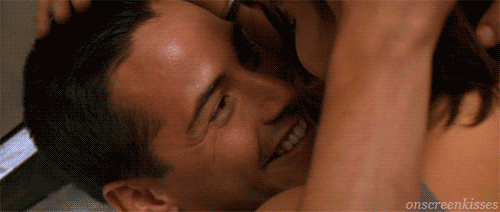 Pictures purposely look as if they were washed away by the tears, but the end of the book is rather life-affirming — all these lines about "the shampoo of disappointments" and "hot tub of sorrow" are actually written with irony to his grief.
"It could be worse after all," says the actor.