Discover Why Your Best Friend Annoys You So Much. Part II of Our Fun Test
Hey, guys! Hopefully, this time you'll figure out the primary reason for the mutual misunderstanding with your (best) friend. Let me remind you of the test's beginning and goal…
Earlier, you used to share the same opinion regarding almost every single thing (from the latest Justin Bieber's single to those ugly purple shoes of Lady Gaga). You lived without any conflicts for a while. You have never won the guy from each other.
But something went wrong… You may wonder what the reason for your break-up is, but you'll never know for sure. Well, perhaps our first self-made friendship tests based on the latest psychological researches will give you the clue. So, are you ready to hear the truth?
We have covered four possible dimensions that can be the reasons for your misunderstanding. Those are ENVY, JEALOUS, AWKWARD AGE, and THE FEELING OF GUILT. Now, as the test is complete, you may compare your results to save your friendship or say "bye-bye" to your friend forever, or, at least, for a while.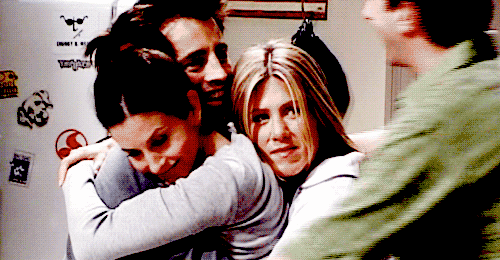 AWKWARD AGE
1. Do you feel like you're older than your friend (mentally)?
A. Yes. He/she is not experienced in many fields. I often give her/him valuable advice.
B. I have never thought about it before…
C. Sometimes I catch her/him being a bit immature and illogical, but everyone has human failings.
D. Sure, it's hard to communicate with a person who has not released from the age of kindergarten yet.
2. It is difficult to understand him/her, because…
A. He/she has not earned anything a penny per living. Looks like she/he believes in money trees.
B. He/she does not acre about anything: only tooses, loud rock gigs, and emptiness in the hed.
C. He/she believes in own maturity despite he/she still acts like a child.
D. He/she does not want to develop but often complains about different things.
3. His/her outlook seems…
A. Naïve.
B. Foolish.
C. Original and worthy.
D. Weird.
4. Recently, you feel…
A. Bored with him/her.
B. Sad next to him/her.
C. Worried about him/her.
D. Just as usual.
5. Psychologically, your relations remind of…
A. Mother-daughter.
B. Sisters.
C. We don't play those tricky games!
D. He/she often tends to play, but I remain myself.
Now, have a look at the table below and count the amount of each sign.
RESULTS
3+ hats. You and your friend develop with the different speed and intensity. It happened so that currently you are morally older than him/her. Maybe, some of his/her habits and reasoning annoy you – with your experience, you consider tis person pretty childish. But that's not a good reason for your break-up. As psychologists proved, our development does not look like smooth, step-by-step stairway; it rather reminds a jumping frog. It may even happen so that he/she will change completely during these summer holidays. Recall all those funny things you could do together when you were not that critical and boring. Treat your friend patiently and share the own experience without making laugh of him/her.
3+ lemons. Your friend simply drives you mad. Why is it so? Try to find his/her disadvantages in own reflection: we usually notice things in other people that are more relevant to ourselves. Perhaps, you are judging yourself too much strictly. Take it easy! Noone's perfect. Treat your friend as a fine manual of your life, full of valuable advice on the way to self-actualization.
2+ stars. Well, your relations are not doing their best, but it has nothing to do with your psychological age. Your friend irritates you without any obvious reason. Are you annoyed when this person is just next to you? In this case, pay attention to own regime – stressful situations, meal taking, sleep disorders, and more. Replace the stressful factors – and enjoy your friendship.
4+ gifts. You have perfect relations just like Arnold and Gerald, or Hermione and Harry Potter. You understand each other without saying a word. But what's the matter then?
A FEELING OF GUILT
1. Recently, all of his/her offers…
A. Start with "I."
B. End up with something like "Oh, God!"
C. Became monosyllabic and boring.
D. Are no relevant at all.
2. The next time you'll have a meeting, you will…
A. Bring a chocolate bar – in any case, he/she will nag all the way long.
B. Bring my notebook and pen – I will figure as his/her personal psychotherapist.
C. Come along with your notepad or laptop – just to do something instead of yawning.
D. Bring another friend – perhaps, it will add up to our relations?
3. He/she starts getting on your nerves when he/she…
A. Starts complaining.
B. Is late.
C. Talks only about own failures.
D. Does not act.
4. It's hard for you when…
A. Your friend is overloaded with own emotions and starts sharing them with you.
B. He/she complains about everything and everyone.
C. He/she does nothing to change anything in own life to make it better.
D. Your friend is in trouble.
5. You cannot…
A. Cheer him/her up.
B. Suggest a topic for your conversation.
C. Make him/her laugh.
D. Straighten out/teach him/her something.
Now, have a look at the table below and count the amount of each sign.
RESULTS
3+ teddies. Your friend is a real "energy vampire." She sucks all your good emotions and feelings by sharing her hell mood. He/she needs you to survive as far as people like this person barely make friends. But if you notice it only now, perhaps, she used to be a different person until something changed in his/her life. It's up to you to find out the reason if you wish to save this friendship. After all, we are not all holy by nature.
3+ mirrors. Your friend is suffering from narcissism – any lack of attention drives him/her mad. He/she needs this admiration and fascinated looks. But it's not because of his/her high self-esteem or something – he/she simply cannot solve some of the own problems. Put on the mask of a psychologist to discover the matter. Be aware: don't try to hurt him/her with a wrong word or expression. He/she is especially sensitive now, so you risk losing your friend once and forever.
3+ scissors. Looks like your friend is having some bad times now.You perceive it as nagging and unfounded complaints. Perhaps, he/she counts on you and needs your support. So stop getting at him/her – it's not about guilt, it's about that evil inside that we all have. You may try changing the topics of your conversation or spend more time with new people or big companies. It will distract him/her from the life problems and bring some fun.
4+ clouds. Your friend is a cute person who complains about the life just as other people do. If he/she is still annoying her, the problem might be in your temporary misanthropy. There is no wonder – you all have just passed your finals and term papers. Remember: the evil always has to be justified. Bring it on and go play some tennis with your friend.